Hey there! I'm currently working on a CLI tool to deploy WordPress apps to DigitalOcean. Check it out! It's free and open source.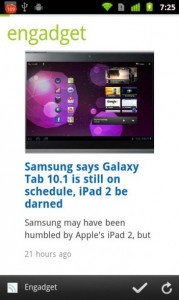 A few weeks ago Feedly for Android was released, first in beta, then in the Android Market. I've been running around with it for a few days now and today I'd like to tell you about it. If you're here for the short story, three words — I love it!
I've been using Feedly ever since it became popular I guess. Bugs, glitches, but okay, it was a cool interface on top of Google Reader and the folks at Feedly have done a great job at keeping it up to date and working in Chrome and Chromium, so yeah, I was wondering when I'd see the Android version, and then finally they spoke about it. I was thrilled and couldn't wait to see it in the Market and then bam!.
As much as I was familiar with the Feedly interface on my PC, it took me some time to get around on the Android app, and their getting started tours were fascinating. I especially loved the horizontal scrolling featured, never seen such a thing before, it was quite unusual, and probably risky for Feedly to do that. But hey, Feedly for Android was nominated Gizmodo App of the Day so I guess it was all worthed ;)
So now I'm tweeting my stories from both my PC and my Android, though it takes one click to share a story on my Feedly for Chromium, but it takes three taps to share one on my mobile, and that is one thing that should definitely be fixed, because the "like" and "save" buttons at the bottom make no sense to me. A share (on Feedly and Google Reader) just like in the desktop version would make my stories automatically drive to Twitter, with one tap. Oh I'd really, really love that!
And if you were wondering what app I used to read my feeds before — Google Reader, of course ;)