Hey there! I'm currently working on a CLI tool to deploy WordPress apps to DigitalOcean. Check it out! It's free and open source.
I'm doing a beta launch of a new posts series on my blog called Themes Weekly where I'll be featuring and reviewing different hand-picked themes from different places, hopefully. Both free and premium themes, mostly WordPress of course. So in today's edition of Themes Weekly we're going to look at some new Business and Portfolio themes for WordPress.
This theme was released in February 2011 and is available for free from the WordPress Themes Directory. Main usage is a blog, but the theme has got quite an awesome featured posts slider and can easily be used as a Portfolio Theme. The typography is quite interesting too with a shiny looking web-version of the Lobster font.
Other features of Amphion Lite include multi-level drop-down menus, social buttons, threaded comments, theme options, page templates and some shortcodes. Download Amphion Lite for WordPress.
This premium theme has made it into my favorites. It was launched a few days ago, with over 60 downloads already! It's fully customizable, well-documented and is the perfect choice if you want to get a portfolio website up and running in only a few minutes.
As almost all premium themes do, this includes a bunch of page templates, custom shortcodes, social widgets, sidebars, thumbnails and loads more. It's got 12 different background patterns and a built-in portfolio custom post type. Purchase Folioway for WordPress ($35).
I came across this theme by @Kriesi a few days ago and I really loved the homepage 3D slider as well as the "mega menu" feature. It will be perfect if you're planning to launch a corporate website since it's got many different styles, stretched versus boxed layout, quite a lot of color options and of course some typography settings.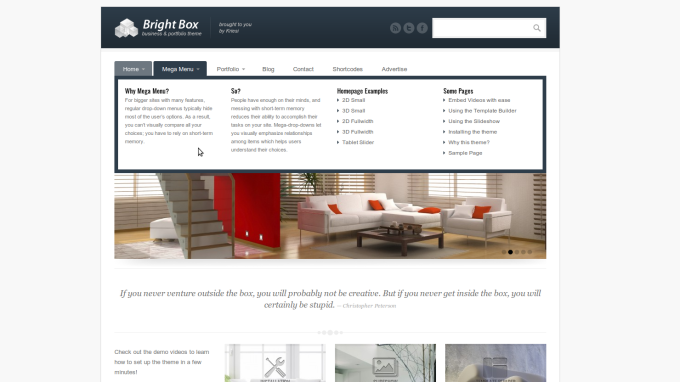 Of course a bunch of shortcodes for columns, quotes, icons, buttons and widgets. Lovely integration into the TinyMCE editor that makes it very user-friendly and easy to use, so beginners will just have to handle the WordPress setup process. Purchase Brightbox for WordPress ($35).
So that's about it for today. Hope you loved my picks and hope I'll have some time to explore the theme market next week. If you're aware of a nice-looking theme or perhaps have authored one, feel free to hit me on Twitter (@kovshenin) cheers and have fun!