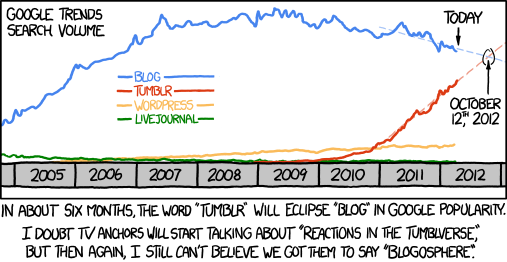 Via xkcd, and you can check for yourself too :)
I've seen a lot of people using Posterous and Tumblr for quite some time, and most of them seem happy enough with the level of customization which is available at both services. I decided to give it a go a few days ago and here's a short revision of what I've been through.
I started out with Posterous. It looked great, the standard theme suited me best, there weren't any major changes to the whole setup, but one thing that I didn't like is the auto-post to Twitter and the rest. I mentioned a few times on Twitter that I dislike having to click twice for a link to open. I mean if you re-post a link to an article you liked to your Posterous, tweeting about it is cool, but please, link to the article directly, not to your "click here to visit the link" page in your Posterous. That's not user friendly.
I also liked the feature where you can select the image you'd like to use for your links, comment it and add a couple of tags. It makes it pretty easy to navigate afterwards. I didn't like writing actual posts on Posterous, perhaps it's too simple. Tumblr seems a little bit nicer in this field. Both services support posting via email, bookmarklets, mobile apps, etc, some of which are pretty useless ;)
Tumblr is very user friendly, but I was disappointed to find out that my username is already taken, then browsing to kovshenin.tumblr.com I found a 404 page, wha? I was confused so I went with the custom domain. Surprisingly it took around 2 minutes to recognize my DNS change and update all the links, unlike Posterous which made me wait for ~ 15 minutes.
The posting features on Tumblr are very neat, you get to pick from Text, Photo, Quote, Link, Chat, Audio and Video. The Chat post type is pretty sweet, you can post conversations from Twitter, IRC, IM, etc. Something funny perhaps ;) Theming functionality for Tumblr seemed a little bit nicer to me, a wide range of options, editable page template and CSS, although I picked the most simple theme – black and white, without any graphics. It now looks like a scrapbook where I can post anything I want, any thoughts, perhaps personal notes, and maybe a little bit of humour. And get the feeling that nobody's ever going to read it, y'know, sort of what Google Notebook used to be ;)
Posterous however can be used to post interesting reads, things you come across RSS feeds, posts on Twitter. The Posterous implementation in Feedly is pretty smooth (Tumblr is okay too), though it still makes you click twice ;)
I was also surprised how easy it was to link both Posterous and Tumblr to my Facebook account, I guess that's a huge shoutout for Facebook Connect and the Facebook Platform. Literally – three steps, three clicks and you're done. All posts to Tumblr and Posterous get posted in your Facebook profile feed.
Not really sure whether I'm going to use Posterous or Tumblr for anything, but it was fun playing with them both. I might say that I liked Tumblr a little bit more that Posterous, but both products are quite similar and if you don't care about how to post, where to post, when to post, as long as you post, then you'll be fine with any of the two ;) My first thought was – I'd rather use a new category in my currently self-hosted WordPress blog ;)