Hey there! I'm currently working on a CLI tool to deploy WordPress apps to DigitalOcean. Check it out! It's free and open source.
Honestly, I haven't been to the conference, but the guys at Ustream did an amazing job at bringing up the show live. The video quality was perfect, while sound had some problems in the beginning, which were solved in the second half of the first day of the conference. For those of you not familiar with Le Web, it's the number one Internet conference in Europe organized by Loic Le Meur (@loic), founder of Seesmic.
Le Web brings together hi-tech companies all over the planet for a two-day session with presentations, Q&As and interviews. This year's conference was dedicated to Platforms. We've seen companies like Mozilla, PayPal, Automattic, Facebook, Twitter, Google, Foursquare, Renault, TechCrunch and many many others on stage, as well as a set of early-stage companies giving their 3 minute pitches in the startups competition.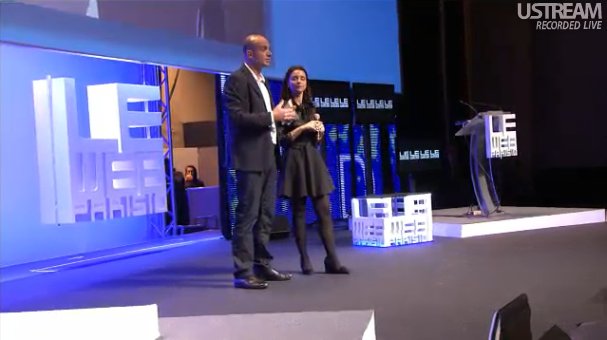 I cannot say that every part of the show was exciting, but switching to the startups competition from time to time (which was held in another hall) was the only thing that kept me from being bored. Kudos to Le Web and Foursquare for creating a special exclusive badge for Le Web 2010. You could get that badge on Foursquare by checking in all the three venues.
So let's quickly go through the talks that I've pointed out starting with Google.
Presentations, Talks and Q&As
Marissa Mayer (@marissamayer) who is VP at Google did quite an interesting Q&A with Michael Arrington, Editor at TechCrunch. I really loved some of the topics that Mike came up with – "What would you do if you were the CEO at Yahoo?", "So Latitude is one of your products, right? Can we just both agree it's pretty terrible?" and some others.
Google has also made a quick presentation of the new Nexus S and the Android Gingerbread platform, but they were too greedy to give away a few phones, having four of them right there on stage.
Nokia has spoken about their mobile device coming up in 2011, and their brand new look at the platform. It seems that the new device will not have any buttons at all. Loic joked it would sense your thoughts and give you feedback directly to your eyes ;)
Charlie Kindel (@ckindel) from Microsoft spoke about the new WP7 Developer Ecosystem and mentioned that the new Windows mobile will be like the X-box Live with an awesome gaming experience. Let's see where that ends up.
I also loved the short story by Dennis Crowley (@DENS), CEO at Foursquare, who said that he has no idea on how to spend $50 million, which is why he turned down a $140 acquisition offered, going instead for a series B funding. During his Q&A geeks from the audience came up to ask a few questions, and Loic did point out one guy from Siberia (@danilka) wearing a cool "Have a working prototype, looking for a VC" t-shirt.
Alexia Tsotsis (@alexia) did a quick Q&A with Matt Mullenweg (@photomatt) and Toni Schneider (@tonidotorg) and it turns out that 10% of all the websites in the Internet are powered by WordPress! Fascinating, isn't it?
Sorry for the photos quality, they're not really photos — they're screenshots from Ustream ;)
Startups Competition
I didn't watch the whole startups competition, but I did love the whole format of the presentations. Much more professional pitches that what I've seen here in Russia at Startup Point or Startup Weekend, yeah, we've still so many things to learn. So from all the 16 startups presented on stage, I pointed out Waze, Tiny Pay.me, Super Marmite, and Phonedeck, and I'm pretty sure Paper.li had a very good presentation too.
The three finalists were Waze, Super Marmite and Paper.li, they all got first place trophies ;)
Second day wasn't as exciting as the first, except of course Matt Mullenweg on stage, I love the way he speaks and kudos to WordPress for making it. Kudos to Ustream for making such a great live show, I wish they could partner up with Google for their IO and Developer Day sessions. Too bad I didn't make it to Paris this year, but hopefully will be there next year. Thanks for reading!