Hey there! I'm currently working on a CLI tool to deploy WordPress apps to DigitalOcean. Check it out! It's free and open source.
So the TechCrunch Moscow conference is over and this post is my review of what happened out there. The conference was held in on the 13th of December in Moscow, metro station Kropotkinskaya, a building called Red October — not the best venue around, but okay for their first conference in Moscow, and they've got much to learn from Google, who have been doing their Google Developer Day conference for three years in a row now. Kudos to Mike Butcher (@mikebutcher) for making this happen and good luck doing so next year!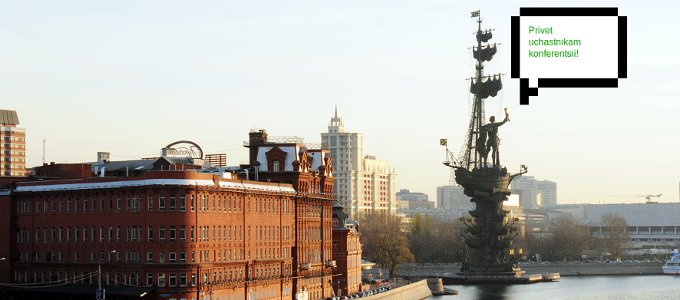 I was excited when I first heard that TechCrunch is coming to Moscow, but unfortunately I can't say that I loved it. I did like it, but not love, especially the first part of it. Yandex CEO Arkady Volozh and Mail.ru CEO Dmitry Grishin were one of the first guests having their Q&A panels on stage together with Emma Barnett from The Daily Telegraph. So Yandex officially announced that they'll be launching cloud computing services to third parties, probably in 2011. Mail.ru seems to be all about gaming these days, search and social? — not really. Dmitry Grishin was talking about how players kill each other and buy better weapons from Mail.ru because they get angry — now that speech was pretty funny ;)
Clones or Not panel introduced Elena Maslova and Dmitry Stavitsky, while Pavel Durov (author of the number 1 Facebook clone Vkontakte.ru) didn't show up at all. Strange isn't it? Some people believe that he doesn't exist at all and it's all made up.
Akrady Dvorkovich, well nothing much to say here actually — Skolkovo, Skolkovo, Skolkovo and Skolkovo.
The other talks for some reason, are not really worth mentioning here on my blog, so I'll go directly to the startups competition. Honestly, it was horrible, and I know Mike Butcher would say the same deep in his heart. Mixxmuse won because they were the only ones who actually had clients, and because "the music industry is now growing", which is fair I'd say. Others were like… Meh ;)
The after-party in a cafe nearby was good, but damn the music was too loud, and then some girl took the microphone and started shouting out loud while playing the piano — that was awful. But I did have a good talk with a few marketeers and a VC there from Japan (I'm not disclosing their names.) and then back home to get some sleep, since Tuesday was a working day. Yeah, perhaps the day of the week was not chosen right either. Google always does these on Fridays ;) and free of charge…
Well anyways, I want to say a big thank you to Mike Butcher, the TechCrunch team and Digital October for making this happen. Wish you guys luck and hope to see you next year. And yeah, I got Mike's business card ;)