Hey there! I'm currently working on a CLI tool to deploy WordPress apps to DigitalOcean. Check it out! It's free and open source.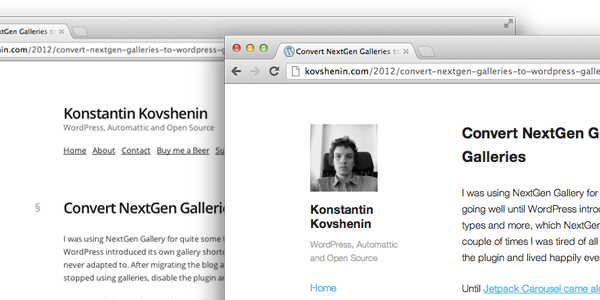 I don't often work on designs. In fact, until today, this blog had only three different themes. The first one was a blue-ish theme from the .org repo, the second one was made by me (my worst first ever WordPress theme), and had an opening <? php tag on the top left. The third one was one I temporarily called Publish, which you see in the screenshot on the left.
Today's "redesign" is not much different from Publish, in fact, I just called it Publish 1.1, changed fonts, colors, and moved elements around, so it's not really a redesign, but more of a quick refresh. However, because I started contributing to Automattic's _s starter theme, I thought I absolutely had to use it in a real-life project. And what could be more real than this? ;)
I used the theme generator to create the base for my new-old theme, used the sidebar-content demo layout and made the rest with CSS. It was a breeze and took me three hours or so. It's far from perfect, and I'll keep tuning it along the way. The Gravatar on the top left is a simple call to get_avatar using the admin e-mail address set in the Settings, not sure it'll fit for multi-author blogs.
<?php echo get_avatar( get_option( 'admin_email' ), 100 ); ?>
Anyway, this is just a reminder that Underscores is so awesome! I'll keep working on this and you can obviously follow along on Github. Feedback, bug reports and pull requests much appreciated! Have a great Wednesday :)
Update: and it's now compatible with (some) mobile devices too. The "small-menu" script in the underscores theme is doing a really good job.