Hey there! I'm currently working on a CLI tool to deploy WordPress apps to DigitalOcean. Check it out! It's free and open source.
Today was awesome! Okay, not that awesome, but good enough for the first WordPress meetup in Moscow, and I'm glad we made this. I first announced the meetup February 23rd which was three weeks ago and said it would be sometime in March. It took me a quite some time to find a venue and as I posted later, I finally did.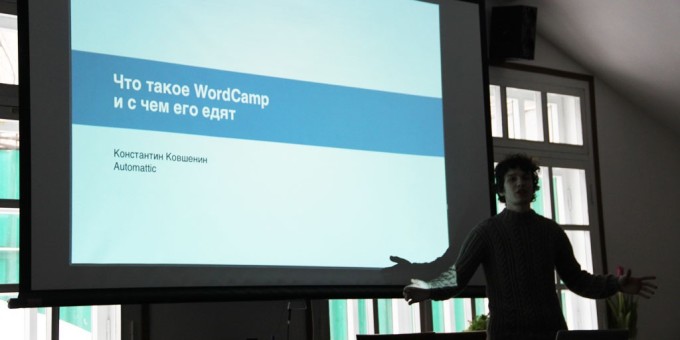 We gathered at 10 am and obviously some were early, some came in late. We had four short presentations lined up, but due to our time constraints, we did only three, I thought that spending that time just chatting and getting to know each other is more valuable. The presentations were the following:
Blog Typography, by a friend and ex-colleague of mine, Nikolay Berning from SKCG, one of the top social media agencies in Moscow;
CMS Debates, by Dmitry Volkov, founder of a local web studio called Volkof, he explained why they and their clients always pick WordPress;
What is a WordCamp, by me.
Out of the 42 RSVPs of the Facebook event I created, 26 said they were going. I made an extra round with a short survey on Polldaddy, where I gathered only 10 entries. Out of those 10 entries, 7 people came to the meetup. I called some of them after the event to find out why they didn't show up, top reason was traffic jams — of course, it snowed like crazy last night.
We haven't made much photos from the event, but we all had a great time and left the place with something we've learnt, which is a great feeling. I'm thinking about growing the meetup group, and gathering once a month, and when that's large enough, we'll all be ready and set for the first WordCamp in Moscow. Fingers crossed!
I made only one new connection at the meetup, which was Dmitry. The rest of the attendees were friends and people I worked with in the past. Please share your thoughts and comments below. Let us know if you had experience organizing a WordPress meetup group in your area, and how was your first attempt :)