Hey there! I'm currently working on a CLI tool to deploy WordPress apps to DigitalOcean. Check it out! It's free and open source.
A few days ago I attended and spoke at WordCamp Sofia 2013 which was a great deal of fun. Sofia is somewhat special for me, because that's where it all began back in 2012 — that's where I gave my first ever WordCamp talk, so this year's event was like a little anniversary.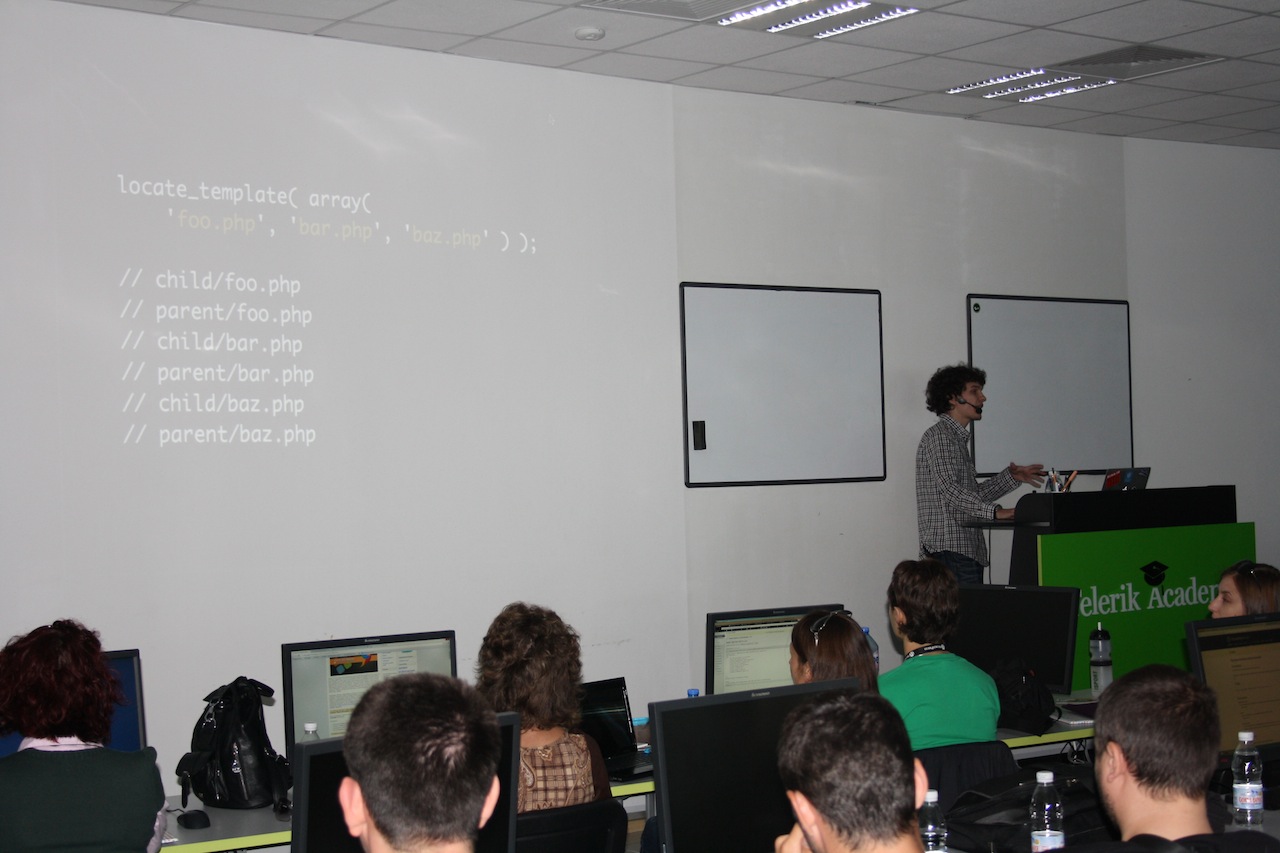 My session this year was about Templating in WordPress: locate_template() and its derivatives, the template hierarchy and template-loader.php. I wasn't too nervous about my talk this time, in fact I didn't even have any notes, and I think it turned out pretty well (although fairly short):
. @kovshenin е страшен спийкър. Ако можех цял ден бих го слушал. #wcsof

— Vestimir (@vestimir) October 26, 2013
So "страшен" here supposedly means "awesome" or "amazing", which is what my Bulgarian friends told me, though maybe they're just being too nice to me, because Google Translate says that's "terrible."
Quite a few sessions were in English this year, which was good for me, though not necessarily good for the Bulgarian community — I felt like most people were shy to ask questions in English. In any case, it was a pleasure to listen to: Ryan Markel, Joe Hoyle, Noel Tock, Marko Heijnen, and Brian Messenlehner.
The after party had some poker chips we could exchange for drinks, which is pretty smart. Beer, wine, whiskey and late-night WordPress chatter.
Contribute Day was new for Sofia this year. It was held at SiteGround's office with pizza, drinks, ping pong and pool. Not too many people attended, but we did have small groups working on translations, docs and themes, which turned out to be fun, and a little exhausting too:
#wcsof hard worker @kovshenin sleeping pic.twitter.com/nQXZlX40Dp

— Владимир (@dr_virus) October 27, 2013
I stayed at the amazing Sense Hotel this time. They have cool light controllers in rooms, that let you pick one of several modes: TV, reading, relaxing, etc.; keycard activated elevators: you don't have to pick a floor — they know; and a solid internet connection, which is always a huge win.
Overall, I had a really great time, so huge props to Mario Peshev for the well organized event and looking forward to WordCamp Sofia next year!