Hey there! I'm currently working on a CLI tool to deploy WordPress apps to DigitalOcean. Check it out! It's free and open source.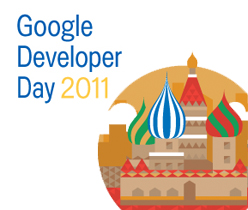 I can't believe this is the first post I'm writing here in September. I really have to do something with myself and my time management and in my defense I can only say Theme.fm is doing pretty good, but okay, this post is not about WordPress.
This post is about my favorite tech conference — Google Developer Day and this year will be my third year in a row in Moscow. I'm not expecting much this year since from last year I've stepped a little bit away from Google App Engine, although I'm still using it from time to time. What's interesting this year is the "Social" track and of course Google+. I bet the room will be packed, just like Wave during it's days ;)
Also interesting: VC Panel, Google+ Hangout Apps, Google+ APIs and of course the good time we'll have with my friends, the food and drinks, amazing as usual. And let's hope I get to see some of my "old friends" from Google ;) Make sure you poke me if you're coming so we can chat and play video games during the breaks.